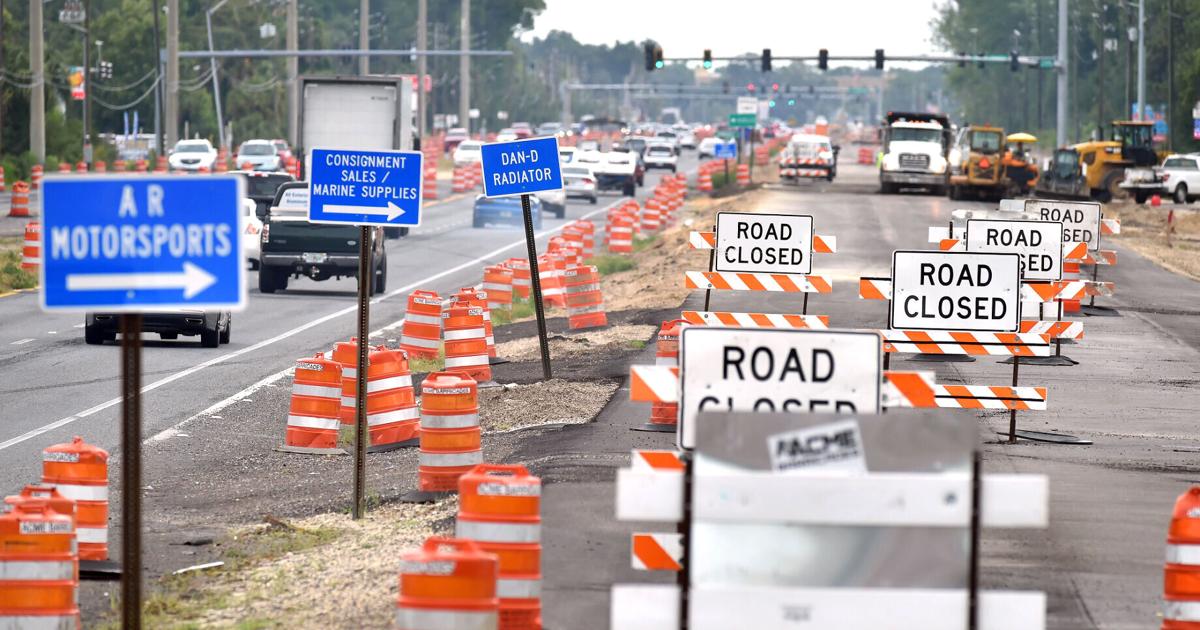 [ad_1]
Some of the most popular stories of the week
Finally, work is restarting on the US 19 project: the Parkway deadlines are published
Two months after DAB Constructors filed for bankruptcy, which ended the US 19 expansion project, the Florida Department of Transportation (FDOT) found a new contractor to complete the work.
Tampa-based PCS Civil began work last week to complete the widening of the 4.7-mile section from West Jump Court to West Fort Island Trail.
The project is expected to end in fall / winter 2023.
The state is still negotiating with Palm Harbor-based Nelson Construction to complete the 2.1-mile stretch from West Green Acres to West Jump Court.
Additionally, due to driver concerns, FDOT is considering adjusting the traffic light schedules along this stretch.
"This is good news," said County Commissioner Jeff Kinnard, who chairs the Hernando-Citrus Metropolitan Planning Organization. "They have a fairly limited window by contract to complete it. I have heard very good things about the two entrepreneurs.
Pair of men arrested for racist assault near Citrus Springs intersection
Two men, Roy Lamar Lashley Jr., 55, of Dunnellon, and Robert Dewayne Lashley, 51, of Brandon, Fla., Were arrested together on the evening of Wednesday, November 17 for their alleged racist assault on a black man. man near an intersection in Citrus Springs.
According to the arrest report, a 24-year-old black man lying in the median of Deltona Boulevard told MPs he was walking away from a Family Dollar store when he heard a man yelling racist slurs at him from the car park.
The black man and witnesses said the two white men hit the black man, one with his fists and the other with an ax handle.
A witness said he heard Roy Lashley tell Robert Lashley they had to leave "before the cops got there".
The state installs a traffic light at the intersection of County Road 491, State Road 200
One of Citrus County's deadliest intersections at County Road 491 and State Road 200 finally has a traffic light.
This murderous corner has seen many accidents over the years and two fatal accidents this year.
County Road 491 intersects National Road 200 at a 30-40 degree angle, making it difficult for CR 491 drivers to turn left onto SR 200 towards Ocala.
Discussions about installing a traffic light have been going on for two years, with County Commissioner Jeff Kinnard being the main proponent of this project to get the Florida Department of Transportation to act.
Local Hospitals Obtain Fall Safety Notes; we get better, we get worse
Fall safety ratings are valid for hospitals in the area: Citrus Memorial Hospital has fallen to a C and Bayfront Health Seven Rivers in Crystal River has maintained its C level for its safety care.
West Marion Community Hospital, a facility owned by the Hospital Corporation of America and the same company that operates Citrus Memorial, has raised its security level to A.
Oak Hill Hospital, also an HCA facility, again received a B.
The ratings come from the Leapfrog Group, a nonprofit organization that assesses and rates hospitals, teamed up with the Johns Hopkins Armstrong Institute for Patient Safety and Quality, to review healthcare outcomes submitted by hospitals across the country. .
Other results from hospitals in the region include:
• AdventHealth in Ocala received a B.
• The Ocala Regional Medical Center received a B.
• West Marion Community Hospital received an A.
• UF Santé Santé Hôpital des Villages received a C.
• Oak Hill Hospital in Brooksville received a B.
MPs seize 14 grams of fentanyl during health check of unconscious motorists
As deputies from the Citrus County Sheriff's Office conducted a welfare check on a man and woman who passed out in a moving car, they found half an ounce of fentanyl in their possession.
Michael James Massey, 32, and Destiny Nichole Beasley, 35, were arrested on the night of Wednesday, November 17, when a deputy arrived to find a vehicle stopped at Crystal Glen Drive with its engine running and still running . The driver, Massey, had fallen forward with his foot pressed against the brake pedal, and Beasley, the front passenger, was lying against Massey and the center console.
After the deputy had no reaction when he knocked on the car door, he entered the vehicle, put it in the park, turned off the ignition and woke its occupants.
MPs also found $ 1,152 in Beasley's possession; she was arrested for trafficking more than four grams of fentanyl.
Massey was arrested for drinking and driving, driving with a suspended license for non-payment of child support and refusing to submit to a urine test with a history of refusal.
Topic of the week: Fall safety ratings announced for area hospitals, with Citrus Memorial Hospital dropping to a C and Bayfront Health Seven Rivers in Crystal River maintaining its C level for its safety care, prompted readers to voice their opinions on the Chronicle Facebook page. Here's what some have said:
• Joni Loverin Cobb: "Need to get a level A. It's health!
• Lori Duo: "I can't believe this about CMH! They are above everything! I was a patient there twice last year and I wouldn't choose another hospital!
• Billie Norton: "It's really sad and definitely needs to be improved immediately for the good of all of us in Citrus County. "
• Gail Kostelnick: "The quality of care in a hospital is directly linked to having a sufficient number of qualified professional nurses looking after you. The index here is "for-profit hospital". It was a sad day when our health care changed. "
• Elisa Sequeira: "… We do what we can with the people we have!
• Paul Reinhardt: "A county without schools and hospitals classified A. Maybe one day we will boast of being at least second rate!
Quote of the week: "We weren't supposed to do things on our own. Sometimes you have to lean on others and sometimes you are the person that someone else leans on. – Betsy Wooters, a local mom who once needed help feeding her kids extra food from Citrus County Blessings and now works and volunteers for the nonprofit.
Good news of the week: Eighty volunteers gathered on Saturday, November 13 at the Citrus County Chamber of Commerce to pack 1,400 bags of extra Thanksgiving food for Citrus County Blessings to give to program students so they could eat during the break. of Thanksgiving.
"For some of these kids, that's all they'll get on vacation," said Christina Reed, executive director of Blessings.
[ad_2]