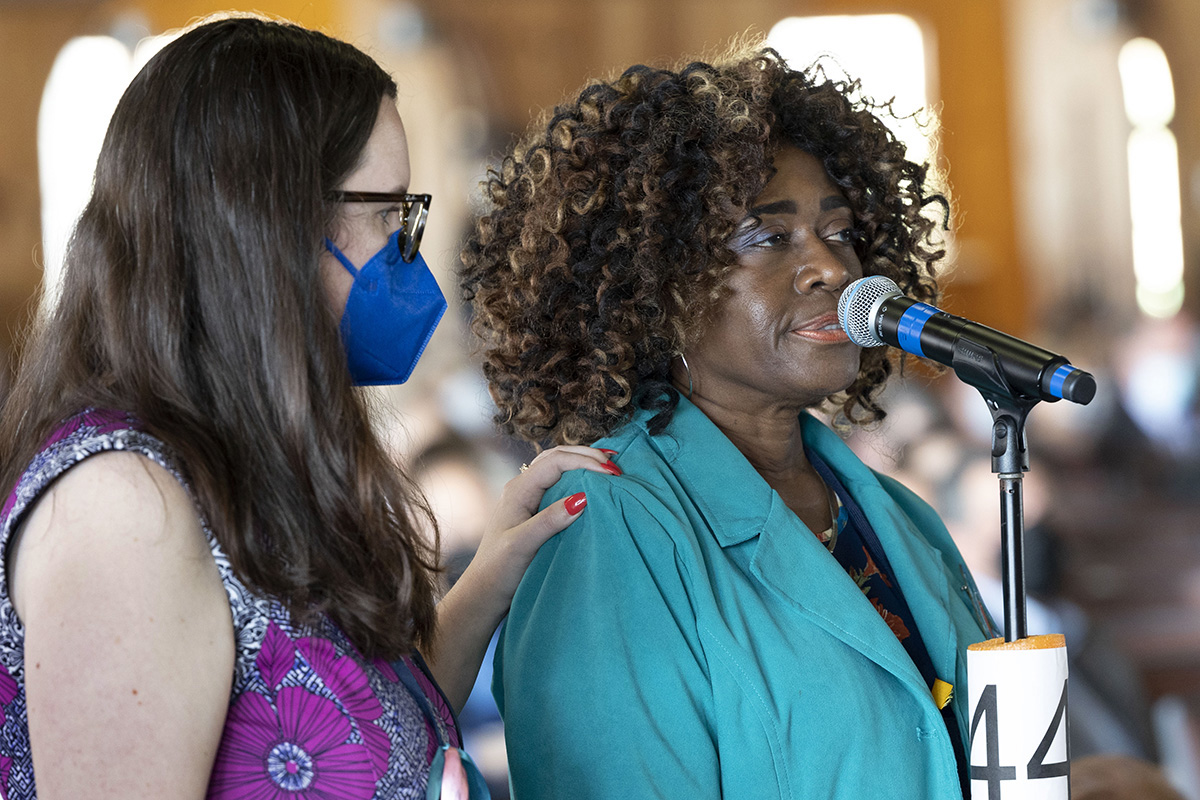 ---
Key points:
The Western Jurisdiction and the Southeastern Jurisdiction found themselves discussing how bigotry has tainted the process of electing bishops.
The western jurisdiction held a highly unusual closed session and issued a statement of repentance in its next working session.
The Southeastern Jurisdiction is forming a task force to study the impact of racial bias in the process of nominating and selecting bishop candidates.
---
Two United Methodist jurisdictions on opposite sides of the United States have halted work to address racism faced by some of their bishop candidates — an issue some see built into the structure of the jurisdictional conference itself.
In a highly unusual move, delegates from the western jurisdiction voted to meet behind closed doors for about an hour on Nov. 3 to discuss the racism, sexism and homophobia experienced by some of its diverse Episcopal candidate groups.
"We repent of the harm that has been done among us, in our system, and the harm that we ourselves have caused," said a statement that delegates endorsed and released at the next working session on November 4.
"We repent of participating in sinful rumors and we repent of how we allowed them to dwell in our bodies. We now affirm, and will continue to affirm, our Episcopal candidates. …"
Meanwhile, the Southeast Jurisdiction passed a resolution for its Episcopate Committee to create a task force to study the impact of racial bias in the process of nominating and selecting bishop candidates. The task force will have more than 50 percent representation from underrepresented groups and will interview former Episcopal candidates to learn about their experiences.
The resolution came in response to pain and frustration expressed by several candidates of color on Nov. 3, after the conference — having elected two white bishops the day before — struggled to elect its third and final bishop, the Rev. Robin Dease.
Reverend Sharon Bowers, a black Holston conference candidate, urged the conference not to fall under "the tyranny of white gaze" as she announced her withdrawal.
Bowers later explained that, particularly in the Southeastern Jurisdiction, everything is seen through a specific lens, "and that lens is the white gaze". As a result, people often don't see or see the problems that arise or how oppressive the systems are, she said. Additionally, people of color "operate under the constant gaze of how they should be seen or whether they should be seen at all," she told UM News.
Subscribe to our
electronic newsletter
Do you like what you read and want to see more? Sign up for our free daily and weekly summaries of important news and events in the life of The United Methodist Church.
Reverend Sharon Austin, a black Florida Conference candidate who withdrew, said the election process "is demeaning, it's humiliating." She thanked her United Methodist colleagues in Florida for their support, but had this word of warning.
"We will never be the church we say we want to be when we treat people of color as if they are commodities that can be easily thrown away or used when we need photo ops, leadership and voices. color," she said.
The Southeast Jurisdiction includes nine southern US states, most of which struggled with the legacy of black slavery and Jim Crow laws.
However, this kind of pain was not limited to the United Methodists of the Old Confederacy. Western jurisdiction encompasses the 12 westernmost states of the United States and the territories of Guam and Saipan.
The jurisdiction, which uses the theme "Where Love Lives," has long been committed to creating a fully inclusive United Methodist Church. He prides himself on electing a number of United Methodist firsts – including the first Asian American, first Hispanic/Latino, first African American woman, and first openly gay bishop in the United States On Nov. 4, the jurisdiction elected the denomination's first Filipino American bishop, Reverend Carlo A. Rapanut.
"The assumption that here in the West we are homogeneous and we don't have incidents of friction is not true," said Kunle Taiwo, a Nigerian American delegate and veteran of this secular jurisdictional conference. which is now the Mountain Sky Conference.
This year, the Western Jurisdiction began with 32 ethnically diverse Episcopal candidates, and as of November 3, the majority of candidates were still people of color. But the bishops got wind of pernicious rumors about certain candidates.
This led to the jurisdiction taking the highly unusual decision to vote to close the meeting to all observers and shut down the live stream so delegates could discuss what was going on. At that time, the jurisdiction had not yet elected bishops.
The Book of Discipline, the denomination's policy book, says, "Great restraint should be used in closing meetings; closed sessions should be used as infrequently as possible.
However, public meeting provision lists some topics that can be discussed in camera, including personnel matters. The closed session was held under staff exception.
During the session, delegates met in small groups to discuss the situation. Delegates told UM News that no specific rumors were discussed.
"I felt it was a safer space to have a conversation, to speak freely at conferences about the struggles we have with feeling broken," said Reverend Allison Mark, a delegate from the California- Pacific who is Chinese and Japanese American.
Reverend Jasper Peters, African American and the first elected clergy delegate in the Rocky Mountain Legacy, now Mountain Sky Conference, said the closed session did not resolve matters.
"But we have done the important job of no longer pretending that there are no issues or pretending that we are not shaped by the racism, sexism and homophobia that exists among us," he said. -he declares.
"We had to stop, otherwise these things would have continued without our active ability to at least name and try to stop hurting."
La. Rev. Felicisimo Santos Cao, a Filipino American delegate to the California-Nevada Conference, chairs the jurisdiction's interethnic coordinating committee that works with the jurisdiction's ethnic caucuses. He led a prayer after the release of the jurisdiction's repentance statement.
Cao said the closed session inspired prayer. "We have to do an act of exorcism," he told UM News. "Exorcism is Jesus' act of rebuking evil, isn't it? Because colonization is a work of evil and we have been demonized.
A number of people in the South East Jurisdiction noted that racism was baked into the Jurisdictional System, which formed in 1939 as part of the reunion that created the then Methodist Church after a split. on slavery before the American Civil War. The idea of ​​regional jurisdictions was to prevent northern bishops from ruling southern churches and vice versa. The original jurisdictional system has also includes the central courtwhich separated the black clergy and its members and meant their second-class treatment in church life.
Reverend Byron Thomas, a black bishop candidate backed by the North Georgia Conference who has stepped down, called for the need to "break free from jurisdictionalism" and described the jurisdictional system as a vestige of racism.
In an interview afterwards, he said that the southeastern jurisdiction was essential in creating the jurisdictional system to protect the culture of the south and bar bishops from other regions who might enter and disrupt the segregated south. . These structures, he said, hold the church together.
"This church has repeatedly demonstrated in our systems and structures that not all brothers and sisters are valued equally, and therefore they are not treated equally," he said.
Speaking from the room, Thomas asked about ongoing efforts to change regional church structures.
Mississippi Conference Bishop James Swanson said two bills sent to the 2024 General Conference, the denomination's highest legislature, would deal with the court system. These are the Christmas Covenant, which would organize the church into four world regions, and the Connectional Table legislation creating an American Regional Conference. These pieces of legislation would give United Methodists in the United States their own regional conference, where they could address common challenges in the same way United Methodists in the Philippines, Africa, and Europe are already doing.
Swanson also offered advice.
"I hope that even as we consider this legislation, we will also consider our history that has brought us to this point, because simply removing the court system is not going to remove the vestiges of superiority that are part of us. ", he said to applause. "It's also not going to take away my need or someone else's need to dominate everything.
"The easy part is the legislation; the hardest part will be the conversion," Swanson said. "And it's very insidious because no matter what you say, I still want to be king of the hill, and how do you get that from me other than through conversion?"
Hahn is associate news editor for UM News and Tanton is news director for United Methodist Communications and director of UM News. Contact them at (615) 742-5470 or [email protected].To read more news from The United Methodist Church, subscribe for free to Daily Digests or Friday Digests.
Find all of UM News' coverage of The United Methodist Church's 2022 Episcopal Elections at our landing page