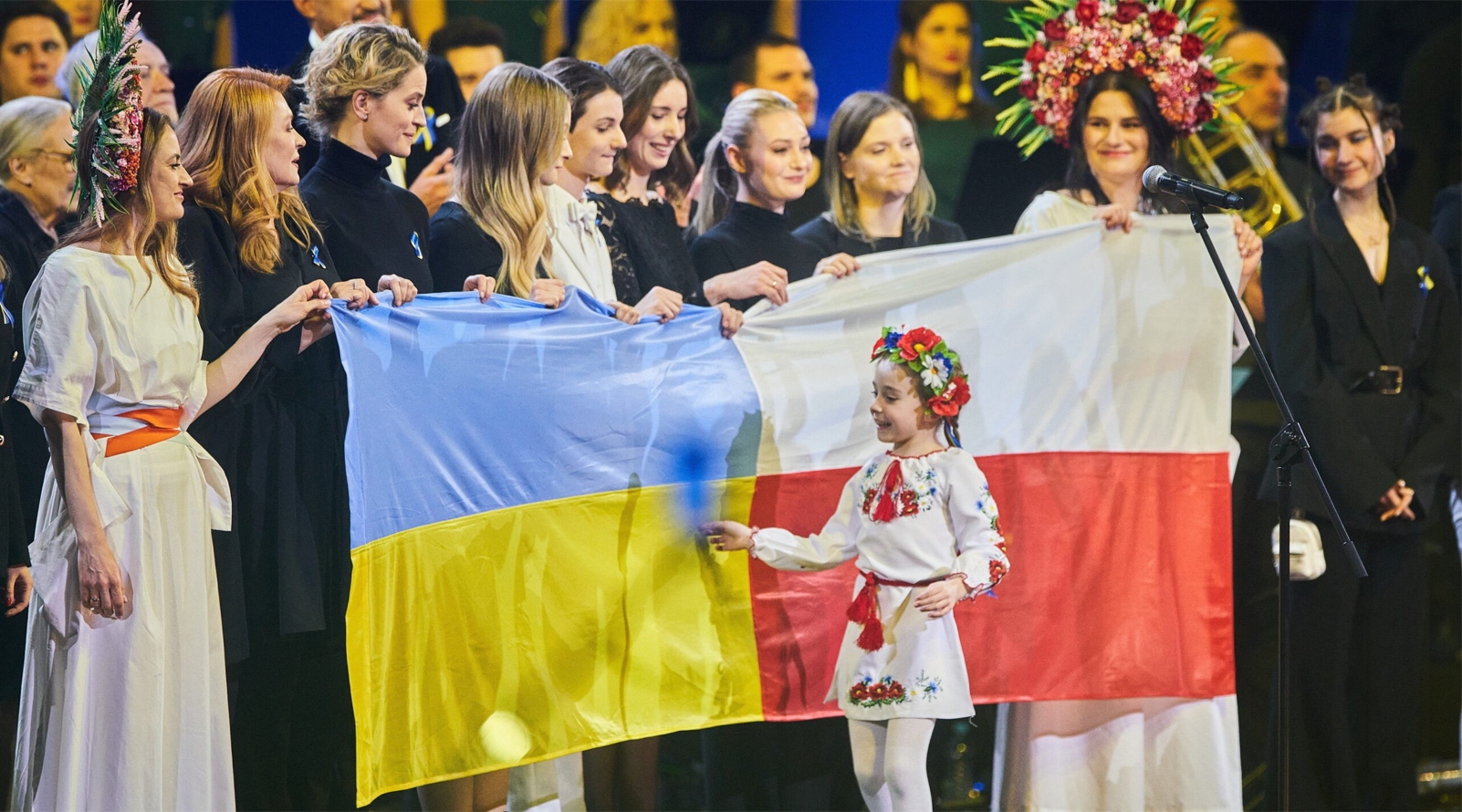 Three weeks ago, seven-year-old Amelia Anisovych rose to international fame with her rendition of "Let It Go" from the movie "Frozen" in a kyiv bomb shelter. Last night the same girl, now a refugee in Poland with her grandmother and brother, sang the Ukrainian national anthem to open a charity concert.
The "Together with Ukraine" concert featured performances by a range of Polish and Ukrainian musicians and actors. He raised 5 million zlotys (1.1 million euros) for Polish Humanitarian Action (PAH), a charity that helps Ukrainian refugees, more than two million of whom have crossed into Poland.
Perhaps the biggest star of the show was young Amelia, who opened last night's concert by singing the Ukrainian national anthem in front of an audience of thousands in a packed house at the Atlas Arena in Łódź.
Amelia rose to prominence when, shortly after Russia invaded her country, she was filmed singing the famous song from the Disney movie from a crowded bunker. The video has been viewed by millions of people around the world.
Kristen Anderson-Lopez, co-writer of "Let It Go," wrote to the "Little Girl with the Beautiful Voice" that her singing was "like a magic trick that spreads light in your heart and heals anyone who hears it. 'hear'.
A few days after the recording, Amelia's parents sent her and her 15-year-old brother, Misha, with their grandmother, Vira, to Poland. The parents, who run a medical supply business, stayed behind to prepare meals for the troops, reports The sun.
Last night's concert was televised in 50 countries around the world, according to presenters Marcin Prokop and Alina Makarczuk, who is herself Ukrainian and spoke of her frontline fighting father.
Amelia was joined on stage by Ukrainian singer Tina Karol. Other artists to feature in the show included Stanisław Soyka, Kayah, Vito Bambino, Natalia Przybysz and Anita Lipnicka.
Polish singer Krzysztof Zalewski performed Czesław Niemen's classic 'Dziwny jest ten świat' (Strange is this world) with Ukrainian singer Daria Psekho, while Polish-Ukrainian band Dagadana also took the stage.
The population of Warsaw increased by 17% due to the arrival of 300,000 refugees from Ukraine

Yesterday, President Duda "appealed to the entire international community" for help in the face of the refugee crisis. Otherwise "we will be in a very difficult situation" https://t.co/9JBDNfAoBv

— Notes from Poland 🇵🇱 (@notesfrompoland) March 17, 2022
There were also other artistic performances. Ukrainian actress Liudmyla Smorodyna and Polish actor Andrzej Seweryn recited – in Ukrainian and then in Polish – "Testament" of 19th-century poet Taras Shevchenko, often considered the founder of the modern written Ukrainian language.
Seweryn then quoted the famous phrase of the soldiers defending Snake Island on the first day of the Russian invasion: "Russian warship, fuck you."
Ahead of the concert finale, a performance of John Lennon's "Imagine", Prokop announced that more than 2 million zlotys (€427,000) had been raised through text messages sent by viewers as well as ticket sales, reports Gazeta.pl.
The American conglomerate Discovery Inc. – owner of the Polish channel TVN, which broadcast the concert – supported the cause with half a million dollars (more than two million zlotys). Proceeds from the ads raised another million.
All funds raised from the concert will go directly to Polish Humanitarian Action, a charity that helps victims of humanitarian crises and natural disasters, and currently provides food and other support to displaced people in Ukraine. and refugees coming to Poland.
Since Russia's invasion of Ukraine, more than two million people have crossed the Polish border. The Polish government estimates that about three quarters of them remain in Poland.
The influx was greeted by a massive mobilization of Polish public institutions, businesses, religious organizations and civil society to help the new arrivals, providing them with accommodation, food, services and other forms of support. support.
The number of people who have crossed from Ukraine to Poland since the Russian invasion has now exceeded two million.

The government estimates around 1.5 million remain in Poland, and a new poll shows 94% of the public support accepting refugees https://t.co/UQECAEpu9V

— Notes from Poland 🇵🇱 (@notesfrompoland) March 18, 2022
Main image credit: Marcin Stepien / Agencja Wyborcza.pl
Ben Koschalka is a translator and assistant editor at Notes from Poland. Originally from Great Britain, he has lived in Krakow since 2005.