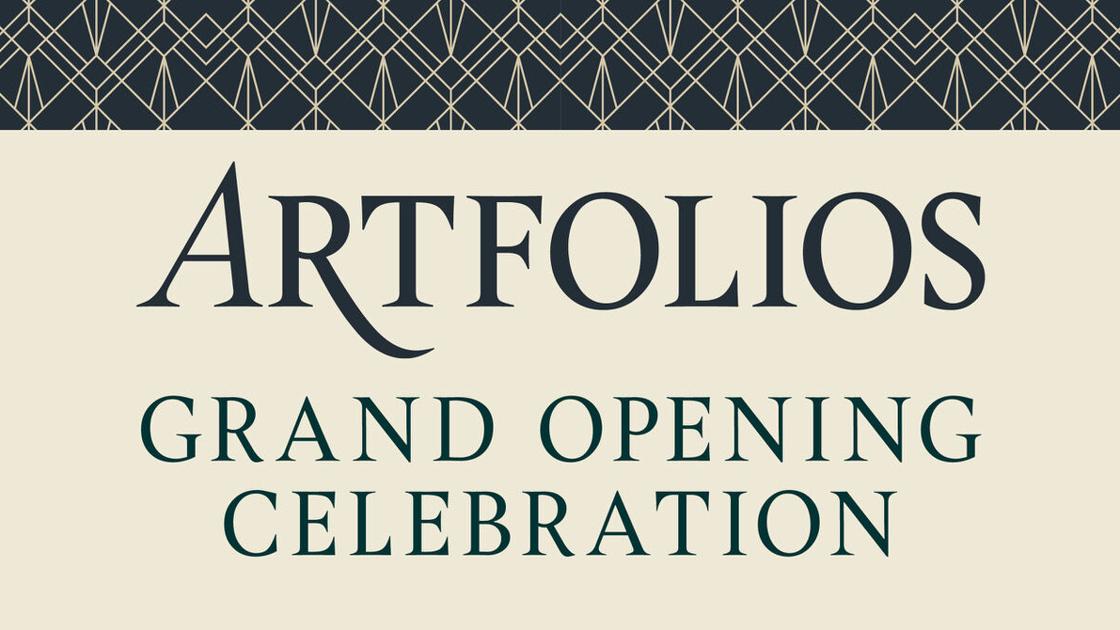 [ad_1]
Artfolios cordially invites the community to a grand opening celebration on Saturday October 16 from 1 p.m. to 4 p.m. at Current on 4th, located at 210 W Fourth Street, Winston-Salem.
Meet artists and shop for various collections while listening to music for violin and cello performed by Susan C. Perkins and Lauren Shriver. At 2 p.m., there will be remarks from Carrie Leigh Dickey, owner and visionary of Artfolios, and a toast to Artfolios by Katie Hall, head of advancement for the Winston-Salem and Forsyth County Council for the Arts. Wine, cheese and fruit will be served.
PARTICIPATING ARTISTS:
• Andrew Stenhouse, Emerging artist, was born in the North East of England. He had a fascination with abstract art, having dabbled in watercolor in the past, he was recently drawn into the art of acrylic flow as his primary medium.
• Barbara rizza mellin, Founding artist, is an award-winning artist and writer, who has exhibited in individual and jury group exhibitions nationwide and abroad. Art historian (Harvard University), she enjoys reinterpreting traditional techniques for contemporary collectors, using non-toxic and environmentally friendly materials.
• Carrie Leigh Dickey, Founding artist, is an oil painter by training (BA in studio art with an oil painting concentration from Salem College), but works primarily in acrylics. She enjoys making marks with anything other than a paintbrush, including her fingers, old credit cards, and aluminum foil. This art enthusiast creates raw, organic paintings inspired by both nature and the city of Winston-Salem.
• Dean Roland Johnson, Founding artist, painted with passion since childhood. He is particularly fascinated by flowers. They come in countless shapes, sizes and colors and present themselves as beautiful opportunities for visual expression. He recently moved to Winston-Salem and now devotes all of his attention to painting.
• Émilie Claire, Founding artist, is an artist living and working in Winston-Salem, North Carolina, whose imagination is sparked by the beauty and mystique of nature. Art began as a means of examining the natural world and has evolved into a more in-depth exploration of the full range of experiences, emotions, and relationships in one's life. She draws her imagery from a long-standing fascination with the landforms of nature and plant life.
• Hannah gaskins, Emerging artist, received a bachelor's degree in studio art from the University of North Carolina at Wilmington. After graduating, Hannah returned to her hometown of Winston-Salem. She creates pieces inspired by today's events and experiences. His goal as an artist is to create an engaging and evocative work of emotions, thoughts and ideas.
• John peaspanen, Artist Artfolio, is a longtime artist whose work draws on a wide range of influences. He has studied and assimilated ideas, techniques and mediums, to translate them into his own unique and personal visions. From Japanese woodcuts, fashion design and rock art to Impressionists, classic pin-ups and modern commercial art, he has found fascination and inspiration in everything he sees.
• Professional architect, longtime musician and artist as far back as he can remember, Kevin G. Owen, Founding artist, has always created at some level. His paintings often have clear architectural roots with a strong emphasis on line, form and light and often a bit of science fiction and fantasy.
• Kimberly varnadoe, Founding artist, received his BFA in painting from the University of Southern Alabama and his MFA in printmaking from the University of Memphis. Varnadoe works with experimental photography and a variety of printmaking techniques, often combining the processes. She enjoys experimentation and believes that art is more alive during artistic creation.
• Pat Spainhour, Founding artist, is a contemporary artist and art teacher. She has taught studio art and art history at WSFC schools and UNC School of the Arts. Pat holds a Bachelor of Fine Arts degree from UNC Greensboro and graduate studies from Wake Forest University.
• Sharon hardin, Founding artist, painted in watercolor for three decades. His work has been exhibited locally, regionally and nationally as well as internationally. She is a former guest artist and design instructor at the North Carolina School of the Arts, director of the Davis Gallery at the Sawtooth School for Visual Art, and drawing and design instructor at Salem College.
• After obtaining his MFA at Clemson University's School of Art and Architecture, Terri Dowell-Dennis, Founding artist, moved to Winston-Salem to work at the Southeastern Center for Contemporary Art (SECCA). She stayed there for 17 years. She is currently Associate Curator of Education at the Weatherspoon Art Museum (WAM) at UNCG. Although she works in a variety of media, her current focus is printmaking and textiles.
• Terry Schupbach-Gordon, Founding artist, addresses the concepts of identity, fragility and strength in a deeply personal story of who we are and how we claim grace. An engraver and book artist working with images and language seen through the prism of disability. His prints are a combination of intaglio, woodcut, collage and letterpress.
• Trena mcnabb, Founding artist, is a storyteller whose paintings bring together smaller scenes to create a cohesive narrative. She uses many layers of superimposed images to create such a story. Thus, each painting weaves a story. Trena's most notable works are site-specific large-scale paintings.
• Willer's, Founding artist, the passion is to learn as much as possible about the medium of photography, and as a result, he has produced an eclectic body of work. Although he is "retired", he continues to photograph and view photographs every day.
THE VIOLIN AND CELLO DUO:
• Susan C. Perkins, violinist and violist, graduated from the University of North Carolina School of the Arts, where she studied with Elaine Richey, and received her Masters in Violin Performance from Florida State University, where she also studied violin and l baroque viola. She is a violinist with the Winston Salem Symphony and lives in Winston Salem where she maintains a private violin student studio and performs regularly in the area. Susan also teaches the Alexander Technique, a way to coordinate mind and body for the most efficient way of moving and breathing to musicians, actors and people from all walks of life, both privately and at Salem College, in the 'Wake Forest University and UNCSA. .
• Lauren Shriver, cellist, graduated from Indiana University Jacobs School of Music with a degree in cello in 2012. After graduating, she moved to the Triad where she continues to teach and perform as a freelance cellist. Lauren also holds a Masters in Counseling from UNCG and is currently working as a counselor with Camel City Counseling in Winston-Salem.
ABOUT ARTFOLIOS:
Artfolios connects the North Carolina Triad with a collection of artists from the Winston-Salem area through an online art gallery, patron consultations, corporate art installations, and in-person events featuring featuring the artists of Artfolios. Artfolios mission: We seek to present a curated collection of artists and artistic styles as diverse as our community. Artfolios manifesto: We believe that art has the power to connect people. We believe that patrons need art in their life. We believe in the beauty of diversity. We are Artfolios.
To purchase the Artfolios collections, visit Artfolios.shop or follow Artfolios on Instagram @shopartfolios and on Facebook @Artfolios.
[ad_2]