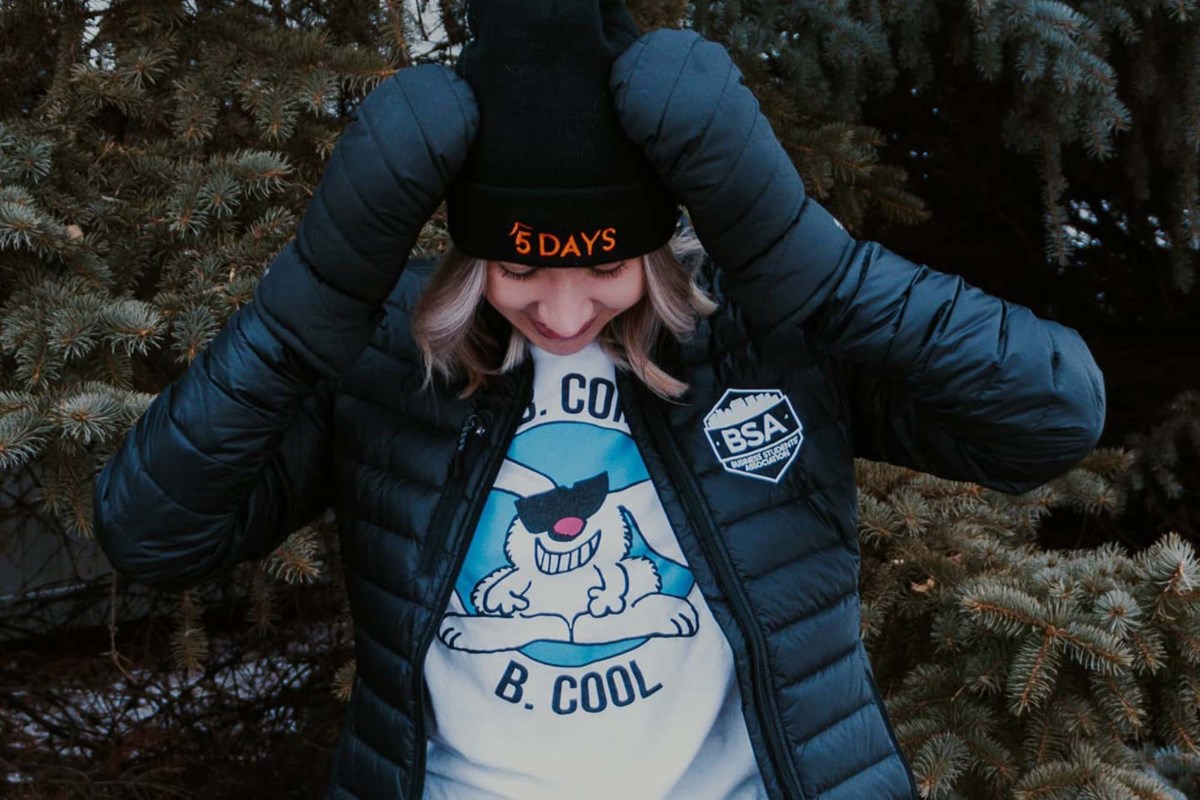 The derby sign-up sheet now takes names.
There is nothing that can accurately simulate what it is like to be homeless. For the serious organizers of 5 Days for the Homeless at the University of Alberta, the lingering pandemic means a repeat of last year's virtual event is a small setback in their efforts to make the world better.
"It's a little disappointing that we can't do the events in person. I think everyone at the moment is really keen to be social with each other. I also think the best way to get across the word is to have a quasi-exhibition, where people are drawn to you asking, "Why are these people sleeping outside? What's up with that? and then they come and ask us questions. I think it's the best way to really educate the public," suggested Travis Nowak, vice-president of public relations for the University of Alberta Business Students Association.
5 Days is a student-run volunteer organization that would otherwise see its members spend five days sleeping outdoors on campus to raise awareness and funds for youth empowerment and support services. YESS is an Edmonton-based organization that provides social services and directly addresses youth homelessness with shelters, counseling and other programs and services to at-risk youth for the betterment of their lives as as individuals, as well as the communities with which they interact.
"In reality, we know it's about more than just sitting outside, of course. It comes with a lot of trauma in the past. It comes with a lot of personal issues that we could never replicate. It's really just about spreading that awareness. It's a shame we can't do that this year, however, we have lots of fun events we can do in exchange to help raise awareness as well.
The students always fundraise for a good cause and they have invited the public to help them reach this year's goal of $12,000, which will enhance the $2 million already raised for YESS. Launched at the University of Alberta in 2005, the event has since been adopted by 23 universities across the country. This year's campaign will run from March 14-18. Visit 5daysedmonton.org to learn more and contribute.
Speaking of cold nights
Sir George Simpson's teacher, Jean Bosco Mouafo, recently brought his pupils together for an icy fundraiser that warmed many hearts: a five-kilometre walk in the cold to help the Adeara Recovery Centre. The Edmonton-based organization works to end the cycle of addiction among women and their children and future children. By providing accredited programming in a community setting, Adeara offers women the opportunity to escape the vicious circles of addiction, crime and trauma.
Together, the group raised over $1,245. Although the walk has long since ended, funds are still being accepted until March 31. Visit secure.e2rm.com/registrant/TeamFundraisingPage.aspx?teamID=970867&langPref=en-CA to donate.
Derby takes names to 'go'
The St. Albert Soap Box Derby is now accepting entries for its 10th anniversary, scheduled for June 18. Registration is $25 until May 1 and $40 after. There is also an early bird contest for entries received before March 31st. The event is aimed at children from 6 to 12 years old.
Presenting Sponsor Fountain Tire St. Albert will be accepting entries in person and by phone. Visit stalbertsoapboxderby.ca for more information and updates.
Local Latinos gear up for salsa, help support Ukraine
The Latin Cultural Association of St. Albert tunes its instruments for its romantic evening of live Latin music on Saturday, March 19. While guests will certainly appreciate the live music, as well as a glass of wine and tapas, they will also send their heartfelt support to Ukraine. Organizer Jorge Vargas has asked for donations and help finding a local Ukrainian organization he can send donations to. E-mail [email protected] or call 780-237-6533 to learn more.
The 40 days 40 objects challenge is launched
Diabetes Canada is encouraging residents of St. Albert to take on a six-week challenge aptly called 40 Days 40 Items. From March 2 to April 14, the organization is asking people to place an unwanted item of clothing or textile in a bag every day for 40 days, then donate all 40 items to a Diabetes Canada donation bin or schedule a free home pickup at declutter .diabetes.ca or call 1-800-505-5525.
The challenge is hugely popular in the UK during the Lenten season, but has recently gained popularity in North America and also coincides with part of Earth Month.
"Donating 40 items in 40 days will give new life to your upcycled products while simultaneously reducing landfill waste and giving back to the millions of Canadians affected by diabetes," said Sean Shannon, CEO and President of National Diabetes. Trust.
All net proceeds from clothing donations will go to Diabetes Canada's charitable work, including supporting diabetes research and giving children with type 1 diabetes the opportunity to attend summer camps designed with their needs. Thanks to generous donors and volunteers, 100 million pounds of clothing and small household items are diverted from landfills each year.
Kidney health with a 50/50
The Kidney Foundation (Northern Alberta and Territories Division) has launched its Pot of Gold Lotto 50/50 online campaign to raise funds, an initiative carried out as part of Kidney Health Month.
Albertans 18 and older can purchase tickets at potofgoldlotto.ca for a chance to win up to $1 million. The draw runs until March 31.
Funds raised will be used to support the foundation's work focused on achieving excellent kidney health, optimal quality of life and a cure for kidney disease.
"The financial, physical and mental health challenges experienced by the patients we serve mean that the Kidney Foundation's support is critical to the health and well-being of this vulnerable patient population," said Executive Director Flavia Robles.
"The fact is that the needs of patients and their families have exploded since the start of the pandemic. We have invested over $700,000 since the start of the pandemic to make sure patients don't have to choose between their health and their basic needs like food or having a roof over their head. This campaign will provide much-needed funds for our patient-focused programs, including our short-term financial assistance program. »
The Pot of Gold Lotto campaign also includes two early bird prizes for ticket purchases before 11:59 p.m. on March 10 and 23.
According to Alberta Health Services, one in 10 Albertans is affected by kidney disease. To learn more about kidney health and transplantation, visit kidney.ca.