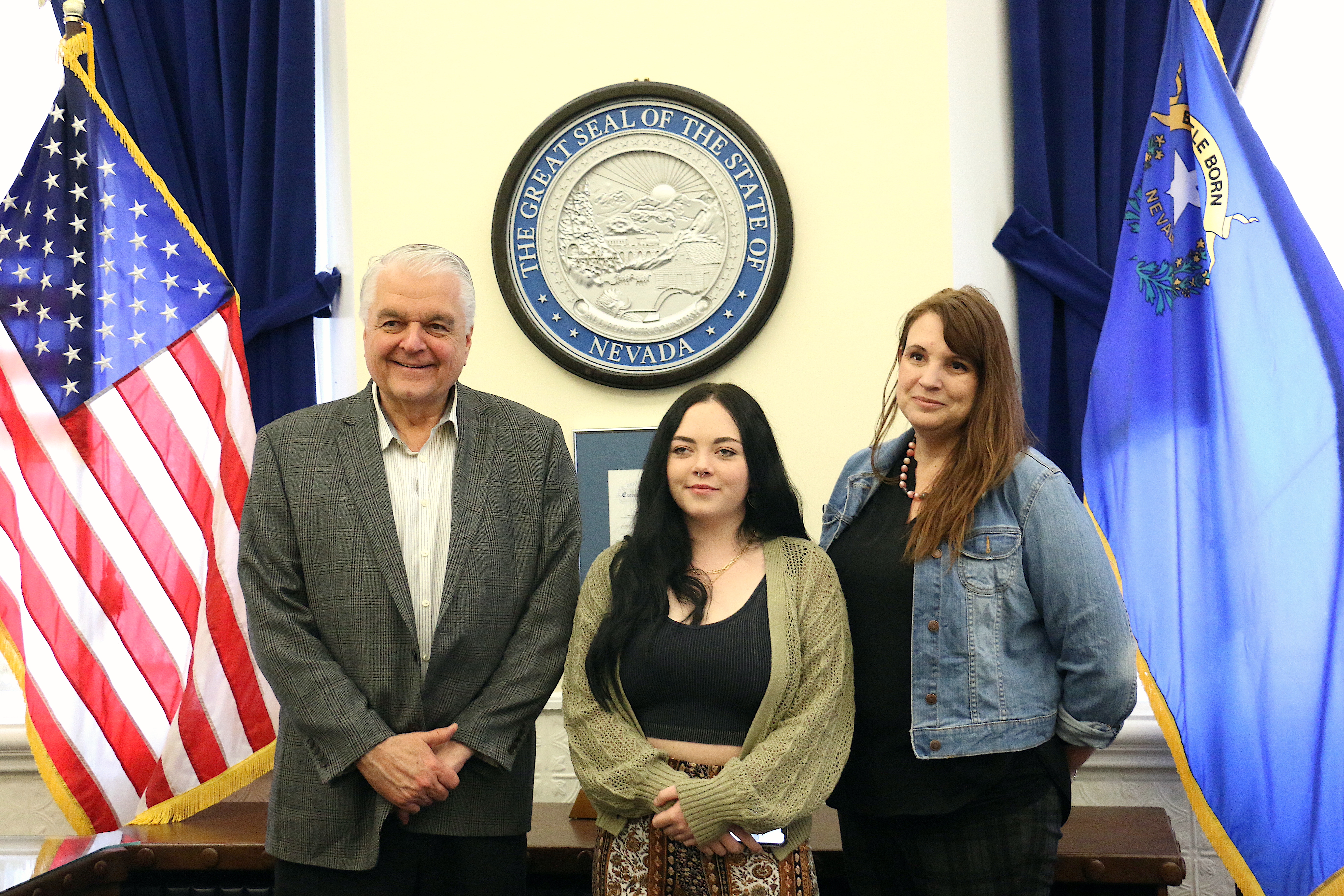 Governor Steve Sisolak met with Alicy Gray, a homeschooled junior and Minden-based Moxy Up brand ambassador, and the organization's executive director, Coleen Lawrence, in his office to discuss the association's success helping local youth in Douglas and Mineral counties.
Appeal by Jessica Garcia/Nevada
Alicy Gray, 16, took about a year to clean up and fully recover from some of the horrors she experienced before finding Minden's Moxy Up program for middle and high school students.
Gray's parents separated a few years ago and she had certain needs but didn't know how to express herself.
"I went to Moxy when I was 12," Gray told Gov. Steve Sisolak on April 11. "My brother died of a suicide and I found him. A friend brought me to Moxy. My parents separated. It was my father and my stepmother. I took some time for me and I had no one to talk to.
But with the help of Coleen Lawrence, executive director of the Minden-based nonprofit, who set up a proper restorative justice model and added some extra compassion, Gray went from about two years late for school to about a week late. She left the public school system where she describes bouncing back from Pioneer and Douglas high schools where she felt she wasn't getting enough help to concentrate better by being homeschooled.
On Monday, Lawrence and Gray shared Moxy Up's key role in the community with Sisolak during a visit to his office, discussing his current impact on Douglas and Mineral. Gray spoke about her message, describing what the organization has done for her and how it helps others like her.
"I was still confused," Gray told Sisolak. "I had been in detention. Now I'm clean. It's been about a year now. … I didn't want to feel what I was feeling. … Now I feel safe. (Lawrence) really helps me a lot.
Gray is considered a brand ambassador for Moxy Up, which serves youth ages 13 to 25 in need of crisis respite or mental health services. Some just need basic services and have nowhere to turn throughout the day to call Lawrence. The organization accepts every child of all abilities via social media or any other means in need of 24 hour assistance.
"If you help families be healthier, you'll have healthy communities," Lawrence told Sisolak. "People ask me, 'What are you doing?' I say, 'What do you need?' and we find out. We have mental health needs, crisis respite. We have Top Ramen, we provide snacks and chips for these kids. I am the biggest supporter of Top Ramen in the Valley. We do everything for these children.
Lawrence and his volunteers are happy to provide time-outs, when students only need brief periods of time to watch television or take breaks from personal, social or academic challenges or to help them feel safe. Lawrence said she works closely with the Douglas County School District and makes sure the children don't end up in an institutional system.
Sisolak asked about Moxy Up's success rates when students come through the organization's doors. Lawrence, who worked as a healthcare consultant, said she hasn't measured her success, but based on other people's conversations, most wonder how she's able to accomplish what she's been doing. she does. A priority is to establish an immediate connection with all who enter daily.
"There's no such magic formula," she said. "There's only one me, isn't there? You have to make sure you have people who care about the kids. If (Alicy) is dating, if she does her homework, how she does it, she can text me. I'm on his Snapchats. I have kids who can Snapchat with me in the middle of the night.
Lawrence described a student who reached out to her in the middle of the night asking her to review her Snapchat story out of concern that it was inappropriate, and Lawrence replied that she might be in trouble with her parents. Lawrence immediately went through what turned out to be a survey asking if she should choose Vans or Converse shoes.
"And I was like, 'Well, Vans, duh! said Laurent. "She said, 'Dang it, you blew my investigation.' It's about connection, it's about understanding.
Sisolak thanked Gray as a brand ambassador for starting her work so young.
"At your age and your background, you can make a connection that I certainly couldn't make because of life experiences and their circumstances," he said.
He also thanked Lawrence and asked her about the funding, to which she replied that Moxy Up is privately funded.
"We literally put our lives into it," she said.
"I give you all the credit in the world," Sisolak said.
But the needs of the association are starting to grow now, seeing an average of 10 young people per day and 300 per month. Donations are accepted and are applied to bus passes for youth to travel to the Moxy Up location at 1616 US 395 in Minden, healthy snacks, educational supplies, job skills, and certifications or services medical, behavioral and peer support.
Last year, he received part of a $3.97 million CARES Act grant focused on increasing behavioral health services for certified community clinics providing mental health, addictions, employment and family development. The effort was done in conjunction with North Las Vegas-based Chicanos Por La Causa Nevada.
Moxy Up is able to employ an adult mentor and a part-time youth mentor for the first time, having to operate on an all-volunteer basis otherwise.
He has also focused on his kindness campaigns and buying supplies to go to schools to teach students about compassion and deter bullying from the attention of young people.
Lawrence said on the call after speaking with Sisolak that Moxy Up also has an AmeriCorps program that he needs donations for in advance. The group also has a strict policy on volunteers, who are vetted by the Federal Bureau of Investigations as some are young people with special needs.
"These are your children, and I want to make sure they are highly supervised," she said.
She said she was grateful for the support from the community.
"We talk to thousands of children at once," she said. "We are a very unique organization. I don't keep any paychecks for myself, and our community is really nice in that I'll put a thing up and say, "Hey, we need Top Ramen" or "Hey, we need more Ramen." 'water, do your Costco trips', and they help.
Gray said she encourages local youth to consider getting the help they need through Moxy Up.
"I never sat down with anyone who really cared (until he met Lawrence)," Gray said. "And that's what this is about. It's really important to me. I would tell them that today's kids, they just want to be cool… but really taking care of yourself is more important than impressing someone.
For more information, visit the Moxy Up website at https://moxyupmentoring.com.