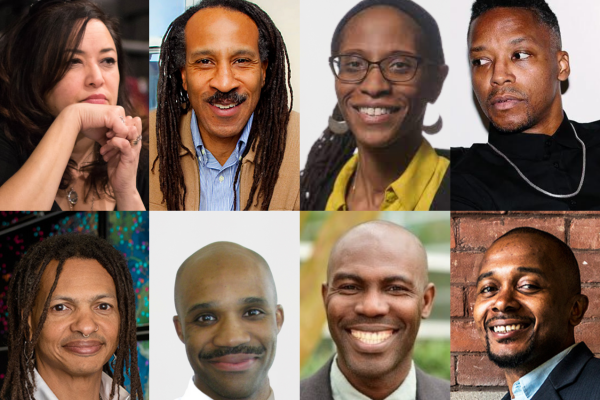 From space traffic to the evolution of viruses, from community journalism to hip-hop, this year's cohort of the Martin Luther King Jr. (MLK) Visiting Professors and Scholars Program will fuel an unprecedented range of intellectual pursuits during their time on the MIT campus.
"MIT is so fortunate to have this remarkable group of individuals joining us," said John Dozier, the Institute's Chief Community and Equity Officer. "They bring a range and depth of knowledge to share with our students and faculty, and we look forward to working with them to strengthen the sense of community across the Institute."
Since its inception in 1990, the MLK Scholars program has hosted more than 135 visiting professors, practitioners, and scholars who enhance and enrich the MIT community through their engagement with students and faculty. The program, which honors the life and legacy of MLK by increasing the presence and recognizing the contributions of underrepresented scholars, is supported by the Office of the Provost under the supervision of the Office of Community and Equity of the 'Institute.
In the spring of 2022, MIT President Rafael Reif made a commitment to MIT to add two new positions to the MLK Visiting Scholar Program, including an expert in Native American studies. These additional positions will be filled over the next year.
The 2022-23 MLK Scholars:
Daniel Auguste is an Assistant Professor in the Department of Sociology at Florida Atlantic University and is hosted by Roberto Fernandez at MIT Sloan School of Management. Auguste's research interests include social inequalities in entrepreneurship development. During his visit, Auguste will study the impact of the burden of educational debt and wealth inequality on business ownership and success, and how these consequences differ by race and ethnicity.
Tawanna Dillahunt is an associate professor at the School of Information at the University of Michigan, where she also holds a position in the Department of Electrical Engineering and Computer Science. Catherine D'Ignazio from the Department of Urban Studies and Planning and Fotini Christia from the Institute for Data, Systems and Society are its host professors. The Dillahunt Fellowship focuses on fair and inclusive computing. She identifies technological opportunities and implements tools to address and mitigate the employment challenges faced by marginalized people. Dillahunt's visitation date begins in September 2023.
Javit Drake '94 is a Principal Researcher in Modeling, Simulation and Measurement Science at Proctor & Gamble. His host professor is Fikile Brushett from the Department of Chemical Engineering. An industry researcher with expertise in electrochemical energy, Drake is a Course 10 (Chemical Engineering) alumnus, repeat lecturer, and research affiliate in the department. During his visit, he will continue to work with the Brushett Research Group to further his research and understanding of battery technologies while innovating from these discoveries.
Eunice Ferreira is an Associate Professor in the Theater Department at Skidmore College and is hosted by Claire Conceison in Music and Theater Arts. This fall, Ferreira will teach "Black Theater Matters," a course where students will explore the performance and cultural production of black intellectuals and artists on Broadway and in local communities. Her upcoming book projects include "Applied Theater and Racial Justice: Radical Imaginings for Just Communities" (forthcoming with Routledge) and "Crioulo Performance: Remapping Creole and Mixed Race Theater" (forthcoming with Vanderbilt University Press).
Wasalu Jaco, widely known as Lupe Fiasco, is a rapper, record producer, and entrepreneur. It will be co-hosted by Nick Montfort from Comparative Media Studies/Writing and Mary Fuller from Literature. Jaco's interests lie in the connection between rap, computer science and activism. As a former Visiting Artist at MIT's Center for Art, Science and Technology (CAST), he will leverage existing collaborations and participate in digital media and art research projects that use computing to explore new issues related to hip-hop and rap. In addition to his involvement in transversal projects, Jaco will teach a spring course on rap in media and social contexts.
Moribah Jah is an associate professor in the Department of Aerospace and Mechanical Engineering at the University of Texas at Austin. It is hosted by Danielle Wood in Media Arts and Sciences and in the Department of Aeronautics and Astronautics, and Richard Linares in the Department of Aeronautics and Astronautics. Jah's research interests include space sustainability and space traffic management; as a visiting scholar, he will develop and strengthen a joint MIT/UT-Austin research program to increase resources and visibility for space sustainability. Jah will also help host the AeroAstro Rising Stars Symposium, which highlights graduate students, postdocs, and early-career faculty from underrepresented backgrounds in the field of aerospace engineering.
Louis Massiah SM '82 is a documentary filmmaker and the founder and community media director of the Scribe Video Center, a non-profit organization that uses media as a tool for social change. Her work aims to empower Black, Indigenous and People of Color (BIPOC) filmmakers to tell the stories of/by BIPOC communities. Massiah is hosted by Vivek Bald in Creative Media Studies/Writing. Massiah's first project will be the launch of a National Community Media Journalism Consortium, a platform to share local news on a larger scale in communities.
Brian Nord, a scientist at Fermi National Accelerator Laboratory, will join the Nuclear Science Laboratory, hosted by Jesse Thaler in the Department of Physics. Nord's research interests include the connection between ethics, justice and scientific discovery. His efforts will aim to introduce new insights into how we model physical systems, design scientific experiments, and address the ethics of artificial intelligence. As the lead organizer of Strike for Black Lives Matter 2020, Nord will engage with members of the justice-focused MIT physics community to strategize advocacy and activism.
Brandon Ogbunu, assistant professor in the Department of Ecology and Evolutionary Biology at Yale University, will be hosted by Matthew Shoulders in the Department of Chemistry. Ogbunu's research focuses on implementing perspectives from chemistry and materials science in his work on the evolution of viruses. In addition to serving as a guest speaker in graduate courses, he will collaborate with the Office of Engineering Outreach Programs on their K-12 outreach and recruitment efforts.
For more information about these scholars and the program, visit mlkscholars.mit.edu.