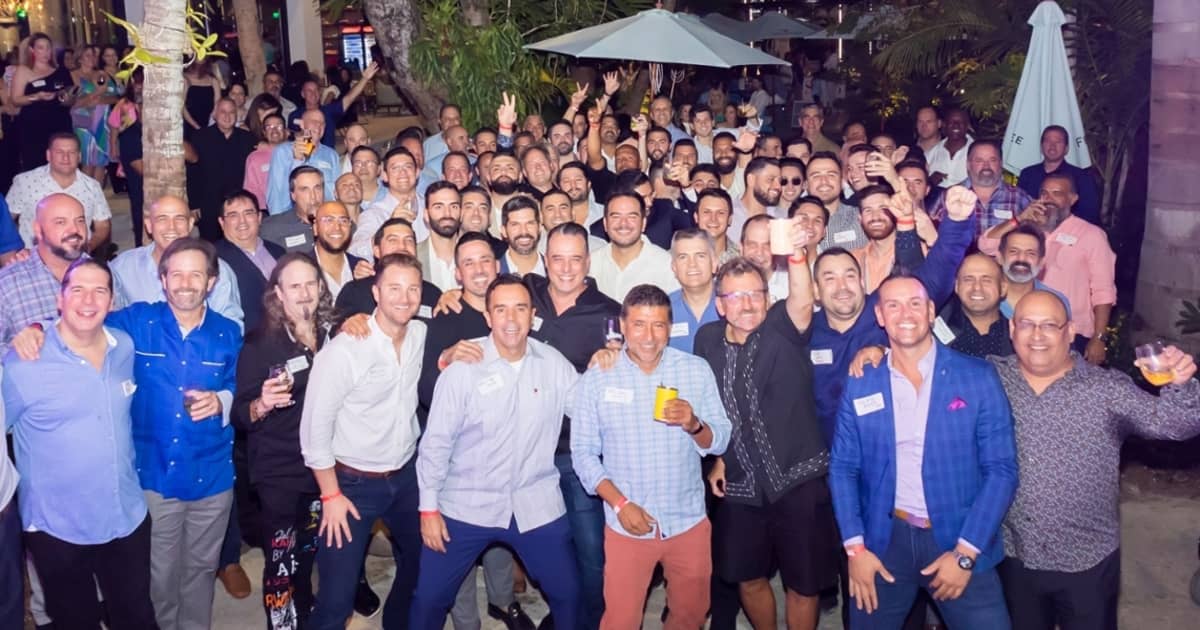 Sigma Phi Epsilon fraternity, better known on campus as SigEp, celebrated its 35and anniversary at FIU with an alumni reunion at Cerveceria La Tropical in Miami on April 2.
The celebration followed the success of a Red Door Classic, SigEp's charity golf tournament, in March. The annual event supports the CRF's First Generation Scholarship Program, the SigEp Balanced Man Scholarship, and the Miami-based Buoniconti Fund to Cure Paralysis. Attended by CRF alumni and community supporters, the tournament has raised $270,000 for the three funds since its inception in 2015, including $63,000 this year.
Alumni Thomas Jelke, Ph.D. '90, CEO of higher education consulting firm t.jelke solutions, and Sean Gazitúa '04, president and CEO of logistics firm WTDC, remain actively involved with SigEp and FIU in as mentors, fundraisers and volunteer leaders. Emulating a core value of SigEp, the two also have many civic and philanthropic commitments in the community, and Gazitúa serves as vice-chair of the FIU Alumni Association Board of Directors.
Jelke and Gazitúa recently met FIU News to reflect on their personal experiences as members of SigEp, as well as the impact of the organization on the university and the community over the past 35 years:
How has being a SigEp member made a difference in your life and career?
Gazitua: SigEp introduced me to a network of brothers who share the same values ​​instilled by my family. The cardinal principles of virtue, diligence and brotherly love of brotherhood carry over into my family life and career. SigEp also teaches its members to be "sane and sound", a health and wellness guideline that I follow and have instituted in our family business. [company] as President and CEO.
As President of the SigEp Alumni Volunteer Corporation for our CRF Chapter, I have been able to meet, network and befriend countless brothers who also strive to live a life based on the principles of our fellowship, and we encourage each other to make a difference at the CRF. , in the lives of our undergraduates and in our community.
Jelke: I had an excellent upbringing at the CRF which was greatly enhanced by the skills and relationships I gained in the fellowship. I think most people at SigEp had that, but maybe I'm a bit unique in that SigEp put me on a straight path for my career.
My first job out of college was working for the national fraternity as a regional director. I had the New England territory and worked with 30 chapters on recruitment, member development, finance, university relations and risk management. It was a great work experience and helped me realize that I wanted to become a university administrator. I ended up getting my masters and doctorate. in higher education/student affairs because of this experience. I spent 12 years working in different universities. Today, I own a consulting firm specializing in student affairs, and I can say without hesitation that SigEp was the main factor that allowed me to create, build and thrive with this company.
I have always volunteered for the fellowship locally, regionally and nationally. More recently, I had the honor of being the National Grand President of Sigma Phi Epsilon. I was elected in 2019 and served for two years.
What are some of the ways SigEp alumni stay engaged with CRF after graduation?
Jelke: Due to the nature of CRF and South Florida, we have nearly 850 alumni who live within 50 miles of CRF. Thanks to this, we were able to stay extremely well connected as an alumni base. This has allowed us to offer mentoring, scholarships, seminars, career coaching, and even internships and job opportunities to our undergraduate members.
We also want to give back to the CRF. You will see a large number of SigEp FIU alumni involved in Panther Alumni Week, supporting FIU sports, serving on university committees, the Alumni Association Board and even the the FIU Foundation. We actively support FIU First Generation Scholarships [and others] by [the Red Door Classic]… To date, we have been able to donate nearly $90,000 to support these first-generation scholarships at CRF, and we will continue to grow that number.
Why does your organization think it's important to give back to your alma mater in these ways?
Jelke: Every fraternity and sorority has a set of principles and values ​​they are expected to adhere to. You learn them throughout your time in the organization, and this is reinforced through rituals and ceremonies. One of the key elements of our fellowship is a commitment to the alma mater. We are committed to loyalty to our host institution, and our Chapter takes this commitment seriously. We consider giving back to the CRF part of our way of paying the rent for all that the CRF has provided to us. We strongly believe in giving back.
In what ways does SigEp give back to the community beyond CRF?
Jelke: Through the Red Door Classic, we also support the Buoniconti Fund in its research efforts so that one day it can end paralysis due to spinal cord injury. We had a brother who had an accident and was greatly helped by this organization, and we have been involved with them ever since. We have also worked with Big Brothers Big Sisters and encourage all of our members to be civic and charitable in their community.
Some examples include alumni Frank Gonzalez '90, who is the new chairman of the Orange Bowl committee [and a member of the FIU Foundation Board of Directors]Esteban Bovo '87, who is the current mayor of Hialeah, and [myself as a member of] the board of directors of the Miami Parking Authority. These are just three of over 100 examples of how we try to stay engaged in our communities.
Looking back over 35 years as a CRF Chapter, what do you see as SigEp's legacy?
Gazitua: SigEp's legacy at CRF is one of continuity and commitment to the advancement of young men. The fellowship establishes a programming pathway for these men to develop the skills needed to succeed in academics, health, education, and society. During their four-year journeys as undergraduates, FIU SigEps strive to make themselves, their fellowship, their community, and FIU a better place.
After graduation, these brothers are engaged in the college community and more likely to devote their time, talents, and treasures to its advancement. We have a legacy of leadership, and in that legacy, our brothers have gone on to do impactful things in higher education, the arts, business, politics, and community organizations.
Jelke: I believe our legacy is strong but continues to grow. We are an integral part of the history of the CRF. We started 35 years ago when there was almost no student life. We wanted to create a school spirit and camaraderie and provide a more traditional college experience for students attending a suburban school. We believe that student life has come a long way, but still has a long way to go.
We have always tried to provide a family away from home for all of our members and give them the support and structure to excel in and out of the classroom. We will continue to provide the best experience for our members, serve as a partner for CRF faculty and administration, remain true to our alma mater, and contribute to every community in which our graduates reside.