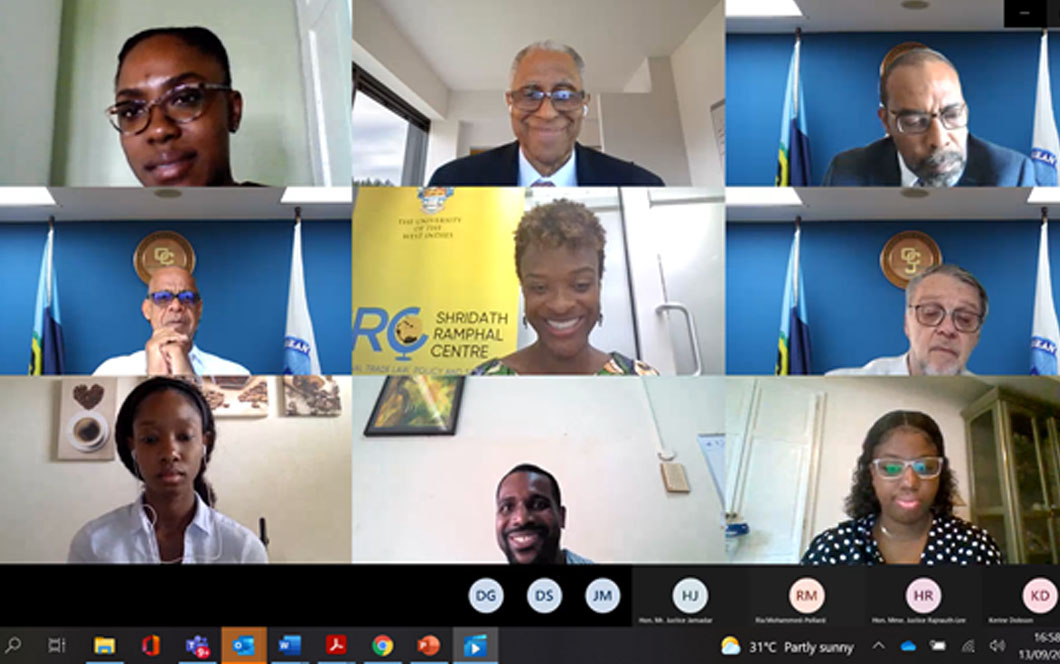 [ad_1]
Posted on
The regional headquarters of UWI in Jamaica. Friday, September 17, 2021—The Caribbean Court of Justice (CCJ) was one of the beneficiaries in 2021 of the third edition of the TradeLab Clinic of the University of the West Indies (UWI). For this initiative, third year law students from the Cave Hill Campus who attended the Clinic produced thirty-four (34) summaries of court decisions rendered in the originating jurisdiction between 2008 and 2020. These summaries were prepared by Ms. Chelsea Lawrence, Ms. Mya Brathwaite, Mr. James Morris and Ms. Régine Mondesir under the supervision of the directors of The UWI Trade Lab, Dr. Jan Yves Remy and Dr. Ronnie Yearwood, and international trade law practitioner Mr. Claude Chase, who acted as a mentor.
This collaboration was conceptualized by Dr Jan Yves Remy and aims to deepen understanding of the role of the Court in the interpretation and application of the Revised Treaty of Chaguaramas and rulings on matters relating to freedom of movement, commerce, services and money in the CARICOM region.
During the official handover ceremony, the Honorable Judge Adrian Saunders, President of the CCJ, deplored the fact that the citizens of the region have not made greater use of the rights they enjoy in under the Treaty. As such, he praised the project, noting that "any initiative that highlights how rights are to be exercised; which highlights the jurisprudence that has developed in this area; and which makes this jurisprudence more easily accessible to the peoples and States of the Community, is of immense service to the region. He further added that "this digest is more than just concise summaries of cases. It includes aids that provide significant added value for researchers beyond providing an easily accessible snapshot of decisions for the general public.
In his remarks before the students' presentation, Dr Remy expressed the hope that the project "… will achieve, to some extent, a greater implementation of this hope for Caribbean integration". In a follow-up comment, she said: "I am delighted that the CCJ has found this work useful! We consider that our role is to contribute concretely to the problems of the day and to play our part in finding practical solutions for the region. "
Speaking of the practical utility of the case summary, Dr Yearwood noted that, "… these types of summaries will enable practitioners and even [academicians] to be able to digest and reach cases faster.
The case summary is available via https://ccj.org/the-digest-of-original-jurisdiction-cases/
[ad_2]